Google Docs has become the go-to document editor for businesses and remote teams. Over five million companies worldwide use the suite of Google products to create, share, and collaborate on everything from meeting notes to legal documents.
And it's easy to see why. Unlike its main competitor, Microsoft Word, Google Docs allows teams to collaborate in real-time and avoid the chaos caused by emailing around multiple versions of the same document.
But as you already know, keeping your files organized in Google Drive can be somewhat challenging and often lead to you bugging your colleagues to find out where a particular document or folder is stored.
This is because the folder-subfolder-file system that Google Docs uses has been around since 1989 — a time when the only way to share a file was to put it on a floppy disk and physically transfer it to another computer. This system is designed for an individual user and is not really suitable for teams working in today's increasingly remote and fast-paced business environment.
At Typed, we imagined doing things differently—with a focus on team collaboration and knowledge sharing, to revolutionize how work gets done.
So we set about creating a knowledge management platform that sits right on top of Google Drive and organizes your files in a way that your team can easily access anytime, anywhere — your 'second brain.'
Teams around the world are already supercharging their workflows with Typed's features, which include:
Referencing abilities across documents
Built-in simultaneous viewing
Network Mode, which allows you to visualize how documents connect
The ability to assign tasks to Google Calendar directly from within documents
But these features are just the beginning. Typed has ambitious plans for the future, which this article will present in detail.
Making Typed your go-to solution
Typed is an integrated tool that aims to become synonymous with knowledge management software for businesses — particularly startups. In the coming years, we'll continue to add features that will make Typed a one-stop solution for your entire team's resources and knowledge.
Typed will become synonymous with work and productivity. As you write, Typed will make relevant recommendations for resources — whether that's a news article, a novel, a business plan, or an academic paper. This proprietary knowledge network-based recommendation system will make the document creation process much smarter and more efficient.
Right now, Typed helps teams collaborate within the Google Workspace. But in the future, Typed will integrate with the majority of the platforms that businesses use. This will happen incrementally, adding cutting-edge product updates that introduce crucial features into a team's daily workflow.
We also plan to raise awareness of the fact that there is a better way to organize and manage your files. The folder-subfolder-file system has been around so long that startup teams don't realize how much of their time, money, and energy they can save by switching to a solution that understands the importance of knowledge management and team productivity.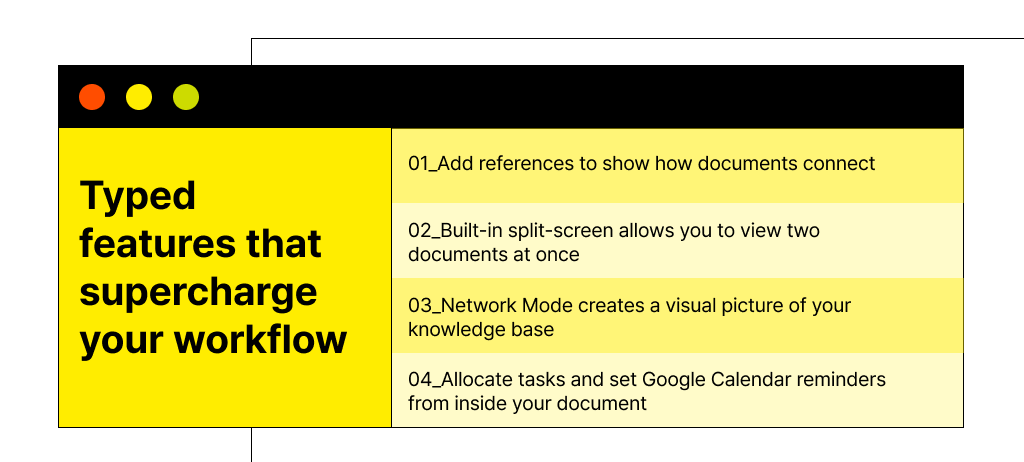 Eventually, our plan is that Typed will become an essential tool in the same way Google Docs is now — and teams that don't use it will experience serious FOMO. Typed will be the only tool a founder needs to launch a successful startup. Team Typed wants to reimagine not just the document but also the logic of document organization by removing the hierarchy of folders and emphasizing the connectivity of knowledge.
Typed wants to put the network front and center, highlighting:
How everything is connected
Where vital documents are located
How anyone in the team — no matter their experience level — can find the things they need the most
Typed values
We're aware that Typed's vision for the future is nothing short of ambitious and will require many iterations of the product over time. However, Typed's company values will always remain constant. The following core values will serve as our foundation as the platform evolves.
Team productivity
There are a ton of productivity tools out there for individual users, but few focus on teams. Some empower the individual while contradicting the needs of the team. But for a team to be truly productive, you need tools that support both individual and team productivity — which is exactly what Typed aims to provide.
Typed offers a combination of both individual and team-based productivity features, such as:
Built-in split screen and recommendations for individuals
Task allocation, referencing and backlinks, and Network Mode for teams.
Context-driven work
Let's say you're writing a plan for an event. You do a bunch of research and collect a ton of resources, but when you share the plan with your team by email, people can't locate your sources and will start asking where you got your information. If you furnish the document with your resources — problem solved! Your teammates can see your process and access the same information.
This is essential for businesses, especially ones with a hierarchy and a system for who knows what. Typed puts information in context because it makes the process of finding and working with it easy and complete. With Typed, you'll have contextual information about your entire company's workflow — and you may even find things you never knew existed.
A united knowledge system
Typed wants to break down the knowledge barriers that arise from different people knowing different things. Typed's vision of the future is that individuals will no longer try to coordinate as a team. Instead, Typed will act as a single brain composed of different people — one giant brain with one huge memory chip. There will still be compartments, but those compartments will serve the purpose of your work.

Join Typed's vision for the future of work
The startup world is crying out for a revolutionary knowledge management system — even if it doesn't yet know it — and Typed is leading the way in creating it.
Typed is a knowledge management and collaboration tool that turns scattered information into a knowledge network, acting as a second brain. It integrates with Google Docs and improves the document management capabilities of your entire team.
Sign up for Typed today and change the way you work forever.