Knowledge is power, but it needs a system that helps harness that power effectively.
Especially when today's learning is based on other people's experiences, whether dealing with customer requests, understanding users' pain points, marketing products, or onboarding employees, you cannot compromise on how your knowledge is documented.
Businesses now invest significant time and resources producing protocols, handbooks or creating mentoring programs to share insightful experiences with their employees.
Yet, researchers claim that 40% of employees do not utilize proper knowledge management solutions and spend at least 20% of their time figuring out the problem from scratch when the solution is already available in the company. 
It's all because your business hasn't created an organized, centralized space where team members can easily search through information quickly.
That's where a knowledge management system comes into play.
At Typed, we have helped hundreds of businesses ace their knowledge management game so their teams can focus on important tasks instead of looking for information around the company.
So, let's get started.
Knowledge management system ≠ Google Drives
We know your first thought of creating an enterprise knowledge management system is on Google Drive.
And that's not completely wrong. Google Drive is a great platform where you can store files and create folders to quickly look up information. However, its usability is quite limited.
Imagine you are the marketing head of a remote startup; your daily tasks will include:
Tracking user behavior
Launching marketing campaigns.
Creating content
Coordinating deliverables
Reaching out to prospects and so much more
So, if you want to track conversations and store all this information in Google Drive, you must create multiple folders with hundreds of files. Without organization, looking for these files can feel like searching for a needle in a haystack.
And, as your team grows and gets used to storing work on Google Drive, you will end up with more clutter.
We are not exaggerating when we say that making Google Drive your knowledge base has problems and is hard. Many people have used Google Drive for the same purpose and have regretted it.
On the other hand, a knowledge management system is dedicated to capturing, storing, and organizing information in a way that is easy to find. An ideal KMS tool can reduce your employees' time searching for information and promote productivity in their actual work.
Knowledge management software keeps teams aligned and connected around the same goals. You can tag people, create mind maps, share resources, and organize information with a robust search feature across all content types. KMS provides a central space where team members can interact and keep track of conversations without losing focus.
And that's what you need when you are scaling your business.
What is a knowledge management system?
Knowledge is a key differentiator when it comes to driving organizational performance. It's part of everything you do, like documenting step-by-step product launch strategy, creating content guidelines, resolving customer doubts, or building important company assets for your employees.
In fact, 75% of organizations say that creating and preserving knowledge across workforces is important for their success in the coming 12–18 months, but only 9% feel they are ready for it.
Many businesses are now pivoting to an advanced way of storing knowledge so they can easily drive value from it, which they are clearly not doing. Knowledge management shouldn't be limited to documentation but allow businesses to capitalize on it.
A knowledge management system (also called a "knowledge base") is a tool that companies use to store, organize, and analyze information for their business. It is similar to Google Drive but better. The best knowledge management tool makes it easier for people to work together, increase productivity, share information accurately and improve collaboration.
Here is what a knowledge management dashboard looks like in Typed.
It offers a unified workspace where all team members can collaborate, share knowledge, and get feedback. You can see how accessible the dashboard looks. This workspace has a lot of information stored in it, but it still feels organized and works well for sharing information within the company.
You can use knowledge management tools to store the following:
Documents-
SOPs
HR policies,
Employee handbooks
Guides
Manuals and tutorials
Battle cards
FAQs
Holiday Calendar
Release notes
Team
Competitive briefs
Strategy
Product development timelines
Best practices
Organizational news-
Upcoming promotions
NPS scores and insights
IT updates
Company media interactions, and more.
Different knowledge management systems examples
Enterprise knowledge management systems refer to company-wide efforts to collect, store, and utilize knowledge. Their goal is to streamline workflows and direct their focus on doing important business tasks rather than spending time searching for data.
With Typed, you can use a single KMS for storing all kinds of knowledge. Here are some examples of knowledge management systems that you can use for your business:
Create internal wikis
A wiki is an online database that allows users to create, store, and browse information on a single dashboard. A public wiki, such as Wikipedia, is a warehouse of information accessible to all the public, but a private wiki is dedicatedly built for teams and companies to share internal information. One major benefit of wikis is that, instead of storing files in different folders and searching for them, you can create interlink pages together and make browsing information super-easy.
Typed lets you see a visual mindmap of how all the documents in a project are related to each other using our Knowledge Network.
3. For employees to find answers to customers' questions
A report by McKinsey shows that on average, an employee spends at least 1.8 hours every day—or 9.3 hours per week—looking for information; that's equivalent to wasting almost 20% of their business time. As a business owner, that's a huge waste of resources. Your company's knowledge base should contain answers to all your customers' queries so that your employees can easily pull up information with a simple search.
4. Organize all your meeting notes
Meeting notes are the most difficult to organize. Every meeting has a goal, a recap of what happened at the last meeting, and tasks that need to be done. A knowledge management system like Typed makes it super easy for teams to collaborate and store meeting notes meaningfully. You can add references, tag people, track progress, and connect various slides, docs, or excel sheets in your meeting notes for better understanding.
4. Onboard and train new employees
Great onboarding can improve employee retention by 82% and the productivity of new hires by over 70%. But unfortunately, a whopping 88% of organizations still don't do a good job of onboarding.
A significant reason for this is the lack of purpose among employees. When hiring, your employees need to know what they are signing up for; their goals, daily tasks, and projects they will be working on. Your knowledge management system will act as a self-serve learning source with all resources organized well so new hires can easily look up information and be responsible for their training.
Features to look for when selecting your knowledge management tool
We talked with several project managers, content heads, and CMOs to understand what features sold them on shifting to a knowledge management platform, and these are what they recommend-
Powerful search: Nothing beats a knowledge management system that offers extraordinary search. Just documentation isn't your final goal, right? Your KMS should make pulling up information easier for employees. It's a plus if your knowledge management software offers smart suggestions based on the user's relevancy.
Scalability: Check if your knowledge management software is apt for maintaining more information as you scale. You don't want to change your knowledge base at such a crucial stage of your business.
Flexibility: Every organization uses knowledge management tools in a different way. You need to find a system that gels with all your needs. It shouldn't feel like you are using a KMS that's not made for what you are trying to do with it.
Collaboration: Knowledge management software becomes special because it offers collaboration features. Your employees should be able to add information, assign tasks, and collaborate seamlessly with their team members.
Budget-friendly: You wouldn't have to spend a bomb on a knowledge management platform. Choose the one that fits your needs and is within your budget.
How to create a knowledge management system for your business?
We now know about knowledge management systems and the different ways they can be used in business for better collaboration. It's time to take action and build your internal knowledge management dashboard using Typed.
Define the goals of your knowledge management systems
Before you set up your knowledge management system, it's important to figure out what your company needs, what its goals and objectives are, and what it hopes to get out of sharing knowledge. This might require you to figure out what information will go into your knowledge management system and who on your team will be in charge of keeping it up to date.
What information can you include in your knowledge-sharing platform?
Customer queries: Give your support team information on customers' most asked questions so they can quickly resolve issues and provide a better customer experience.
Sales pitch: Provide your sales team with actionable knowledge that they can use to shorten the sales cycle and offer appropriate information to turn prospects into loyal customers.
Marketing information: Create a space for your marketing team to easily collaborate and share knowledge regarding user experience, marketing collateral, incoming campaigns, and other resources.
Company policies: Create a wholesome doc that includes all your company's policies, from vacation to expenses, to eliminate unnecessary confusion between employees.
Meeting notes: Use your knowledge management dashboard to track meeting notes, so no one misses a beat (even if they weren't in the meetings).
Create and customize your enterprise knowledge-sharing dashboard
Typed gives you an all-inclusive dashboard that you can customize to meet your team's needs. The dashboard has templates for-
Creating OKRs
Brainstorming ideas
Putting down meeting notes
Creating weekly checklist
Building a seed pitch desk
Team directory
Profit and loss statement, and more.
Each template has at least two references that help teams figure out how to use it on their dashboard for sharing knowledge.
You can see a template for almost everything you might want to do in your knowledge-sharing dashboard.
How to organize information in Typed?
Organization in Typed is super-easy; let's see how we can do it.
Create groups: Start by creating groups on your Typed dashboard. Each of these groups can then have unlimited sub-groups to further simplify the information. For instance, a marketing group can have sub-groups related to your business's activities for reaching out to potential customers.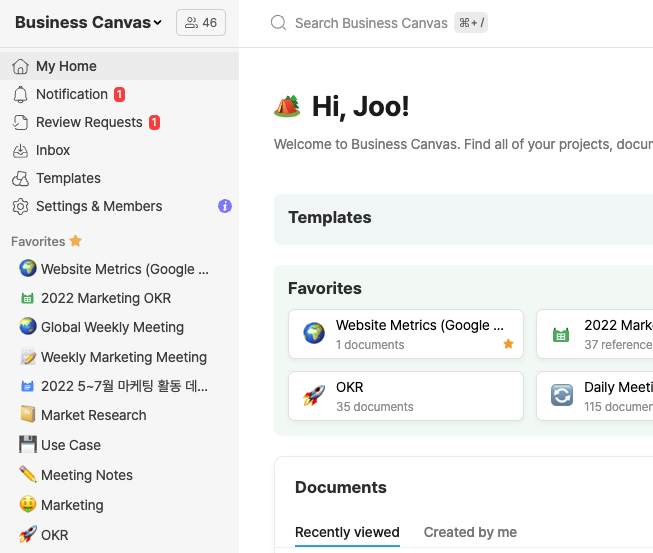 Put all the material inside these subgroups: You can now start by adding information to these sub-groups. Typed lets you add Google docs, Sheets, Slides, PDFs, Google Drive, and local documents from your device.
Make your headers interactive: Use different header names and emojis to make your titles digestible. Make sure there are no two headers with similar names where your team members might get confused.
Create multiple spaces for personal and business use:-In Typed; you can create multiple spaces for various uses. Maybe you can create a space for yourself and another for your team members. You can also add clients and create a unique space to exchange information.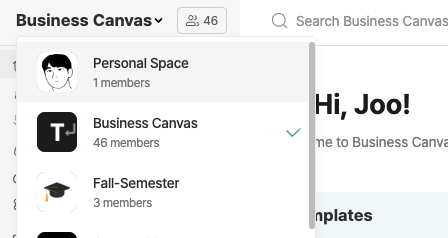 Onboard team members
Now that we have organized our Typed workspace, it's time to onboard your team members. A knowledge-sharing system is meant to make it easy for employees to find information, work together as a team, and give customers accurate information.
Typed allows you to add unlimited users to your workspace. Show your team the ins and outs of your KMS and guide them to understand how to quickly look up for information. You can easily share and add information to your Typed's knowledge management system.
Typed lets you track progress and add tags for easy collaboration. Team members can add daily tasks with due dates and details about the project to make sure everything gets done on time.
Evaluate KMS performance post-launch
Knowledge management is a continuous journey and will remain with your business for a long time. You should continuously improve your knowledge management system with user feedback and surveys.
Ask your team members how they are using the knowledge management dashboard and if it has helped them avoid going back and forth more than necessary. Calculate time spent on resolving customer queries, completing tasks, and making sales pitches. Evaluate if the time taken has gone down and whether the employees' productivity has improved.
Then, you can add to and change your knowledge management dashboard to make sure it helps you reach your business goals.
Ready to set up your knowledge management system?
A solid knowledge management system is crucial for your business. It saves time, lets your team work together, helps retain knowledge, and gives customers a better experience.
If you are looking for a knowledge management system that is easy to use, scalable, customizable, and has all the features that you could ever ask for, that too on a budget, then Typed should be your ultimate solution.
Here are some Typed key features to look for-
Typed integrates directly into your Google Drive. You can import all your work from Google Drive to Typed; the documents created in Typed will be stored in your Drive.
A resource library to add documents, files, and resources from the internet or your local device.
A knowledge network lets you create visual mind maps of how all the documents in a project are connected.
A split-screen viewer that lets you view two documents simultaneously.
Typed mobile app will let you do everything you did on the desktop.
An array of templates to help team members get started.
Want to try Typed for free? Sign up here.