If you're all about productivity (who isn't?), then you know just how important having a knowledge management tool is to your organization.
There's also proof in the numbers. A whole 43% of companies expect an effective knowledge management tool to boost productivity by 30% or more, according to the Technology Services Industry Association. Moreover, Deloitte has highlighted that 75% of organizations view creating and preserving knowledge across their evolving workforces as very important for business success.
As your business grows, so will the number of notes, documents, and information everyone in your company has to keep up with. If you don't have the right tools to organize your information and resources, then you can expect one thing — chaos.
When it comes to tools, there's no denying the popularity of Notion.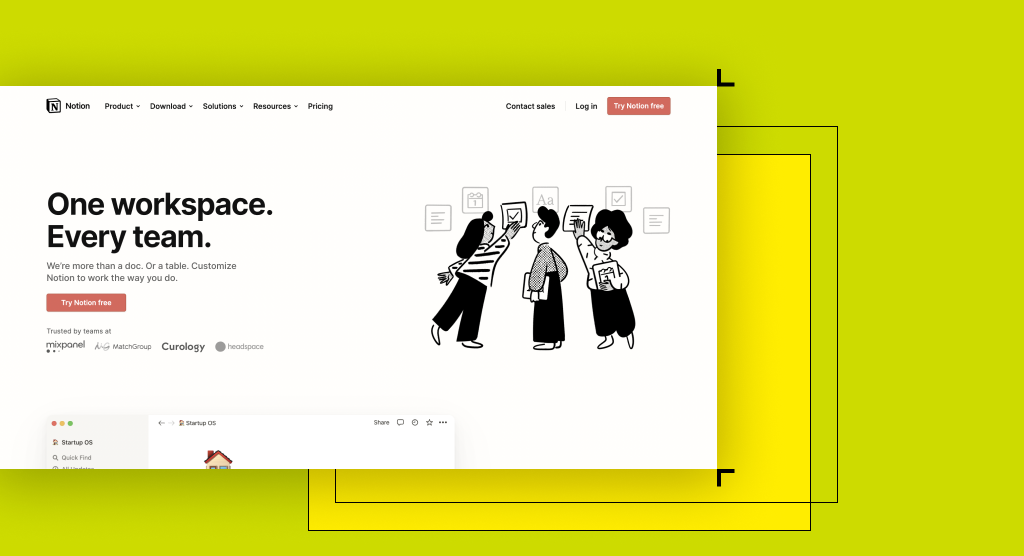 As a tool, Notion lets you manage your projects, business wiki, documents, and notes in one place. That said, Notion isn't without its drawbacks.
The application has some key problem areas that make life more difficult for users.
It's too unique. This is arguably Notion's biggest pitfall. Since the app presents itself as an alternative to document editors like Google Docs, it has a wholly unique interface. Your entire team has to learn how to use Notion and get good at it before you can use it as your standard knowledge management tool. You'll likely lose a lot of valuable time and resources just setting it up and teaching people how to make the most of this tool.
There's no calendar access. Although Notion claims to be able to replace your document editors and project management tools, it quite notably doesn't let you set a task on Google Calendar. You can embed your calendar in Notion, but it's 'read-only', meaning every time you want to change anything on your schedule, you'll have to hop over to Google Calendar manually.
Search and navigation can get messy. The more information you add to Notion, the more difficult it will probably be to find what you need. For instance, you will need more information to find the exact page or item you want. Building proper structures to segment your documents and connect them back to each other can also get complicated as you scale your business.
In addition, the search function can start returning a lot of useless results if people are using similar words to name their pages.
While these pitfalls don't take Notion out of the picture, you may need to look into possible alternatives, especially if you're big on team collaboration. With that in mind, let's review the top three Notion alternatives for 2022.
1) Typed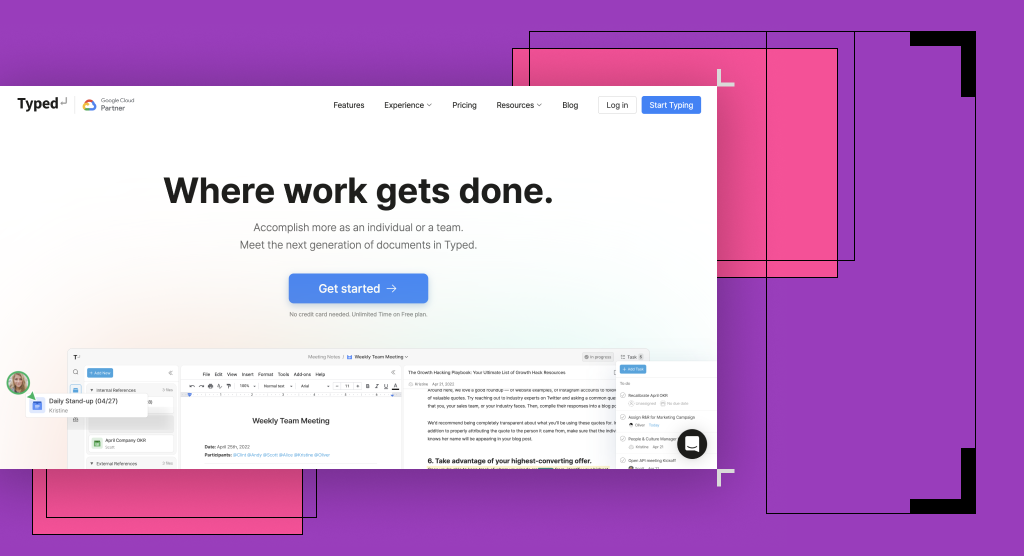 Typed is an advanced, yet simple-to-learn document collaboration tool that brings together fragmented workflows. The tool not only handles note-taking, plus document editing and storage, but it also manages knowledge and organizes assets for your entire team.
The best part — Typed sits right on top of your Google Docs instead of being an independent application with a wholly unique interface. You don't have to spend a lot of time learning how to use the platform.
Pros
Sophisticated referencing capabilities. Typed comes with game-changing features that allow you to reference documents you've created in the past, and add backlinks to other Google documents. For one, you don't need to be opening multiple tabs at once, as everything will sit in the document you're working on. You can also use the referencing feature to easily create a resource database that informs your current document.
In-built simultaneous viewing. The split-screen feature allows you to see and edit two documents simultaneously.
Advanced editing capabilities. Typed's nifty highlight feature allows you to emphasize important parts of your document while the read-only mode removes extraneous elements from a webpage so you can read what you want without visual distractions.
Intuitive document organization.

While most document management tools use the standard hierarchical folder-file structure (Folder >> Subfolder >> File), Typed allows you to organize your documents the way you want, based on their context.

Network mode for visualizing document connections. Not only can you connect documents easily in Typed, but you can also visualize these connections. Typed's network mode gives you a pictorial view of each document's location, how the document connects with others, and how complex a project is getting. This document management functionality can truly empower your entire team's collaboration.
Assigning tasks and setting deadlines. Typed lets you assign documents to other team members, and set deadlines on Google calendar, all without leaving the platform.
Cons
A bit of a learning curve. As with any new tool, you will have to familiarize yourself with Typed to get the most out of it. We understand that going through with training isn't easy. That's why we created a product that sits on top of your regular Google Doc interface instead of replacing the entire Google suite. That way, you're already working with a familiar platform, and can smoothly onboard into the roster of new features that come with Typed.
Pricing
Typed offers a free limited plan. Paid plans start at $10 per team member per month.
2) ClickUp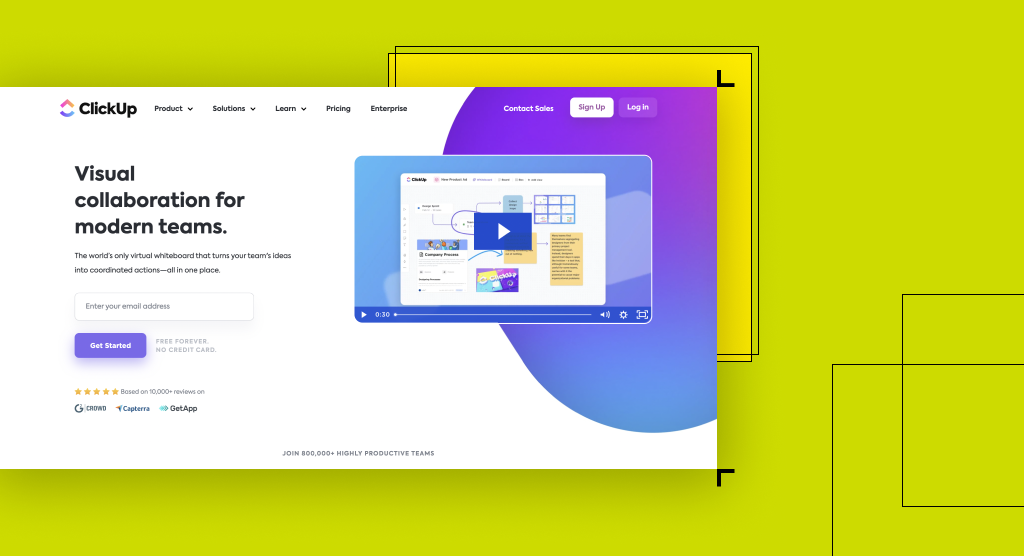 ClickUp is a fantastic tool that offers note-taking features in addition to tons of project, task, and workflow management capabilities. The tool has a user-friendly interface that is simple to navigate and built to cater to novices and professionals alike.
Like Notion, ClickUp claims to be the "one tool that replaces them all," but one thing that stands out about it is that it allows companies to customize their project management.
Pros
Seamless document management. With ClickUp's docs, you can create and store all of your company's documents. Not only that, but you can also connect the documents to existing projects, workflows, and tasks, making it easier to keep all your related resources in one place.
Handy integrations. ClickUp allows third-party integrations. For example, you can use the tool in conjunction with others like Slack, Google Drive, Dropbox, Loom, and YouTube. These integrations can enhance your team's overall tasks management experience.
A central hub for all your tasks. ClickUp Home centralizes all your information in one place to make it easier for your entire team to keep track of all the tasks in progress. You also get to enjoy having your notifications and reminders in one place.
Easy collaboration. ClickUp has a comment section on each task that allows teams to collaborate. Team members will get notifications whenever they are assigned a task to ensure they stay updated. Additionally, comments can be turned into actionable tasks that can be assigned to team members.
Learning resources. The ClickUp team offers some amazing learning material to get you started.
Cons
Too many options. Unfortunately, the problem with all tools that plan to replace notetaking or documentation software persists with ClickUp. Since it has a lot of features, you need to invest in training your team in it. Also, the many features can be overwhelming for your team at first.
Limited referencing features. Although you can @mention other documents as references, you still can't reference the full range of entities ClickUp offers, for example, lists, folders, and portfolios.
Pricing
ClickUp offers a free plan with limited storage. Paid plans start at $5 per team member per month.
3) Evernote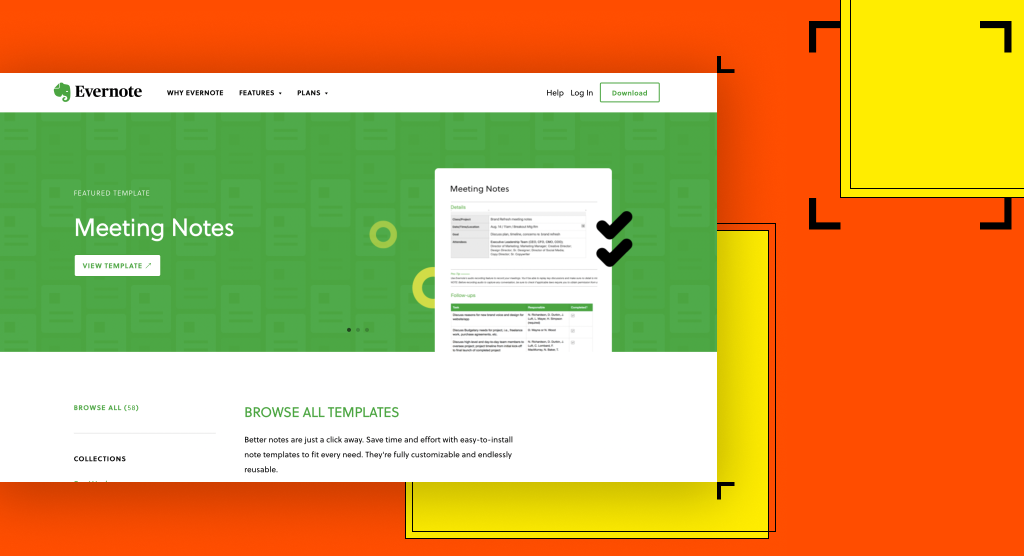 Evernote is essentially a digital notebook that allows users to organize thoughts and create notes. It's one of the most popular data management and note-taking tools out there. Together, its cross-platform syncing capabilities and simplicity have made it many people's go-to productivity app.
Evernote and Notion share a lot of their features and so it makes sense that they go head-to-head.
Pros
Simple interface. Evernote allows users to input their data into a single interface, making it easy to work on tasks and projects as all of the data will be in one place.
Many ways to capture your information. In Evernote, you can type, sketch, or capture images. The tool's web clipping feature is one of the best and it's perhaps many people's favorite feature.
Nifty templates. Evernote offers templates that can help you kickstart your projects or those tasks that require more structure, for example, a monthly calendar.
Excellent search functionality. It's quite easy to find what you need in Evernote. The tool's search feature automatically suggests tags and notebooks based on the terms you enter in the search field. You can also get automatic lists of saved and recent searches.
Practical organization tools. Evernote comes with an excellent to-do list feature and widgets that make it easier to declutter your Evernote homepage. On top of that, you can add tags to your notes to keep them organized. The tool also integrates with tools like Google Calendar and Asana for even more seamless document management.
Cons
Limited tagging and referencing features. These features could do with some improvement since they don't allow users to get the most out of their documents.
Potentially clunky workspace. If you have some heavy note-takers on the team, you have to keep in mind that Evernote's simple user interface can become clunky.
A rather steep learning curve. Once again, Evernote aims to be a replacement for notetaking and project management apps, so your team will need to get used to a unique interface before they can start working efficiently.
Limited free version. The free version is severely limited.
Pricing
As already highlighted, Evernote offers a limited free version. Paid plans start at $7.99 per team member per month.
Typed: The best Notion alternative
Notion's popularity and acclaim aren't unjustified; the tool has proven itself to be a great solution for notetaking and knowledge management in companies. However, its downsides mean you may need to pick an alternative that meets your needs better.
The Notion alternatives we've highlighted in this article each have their own benefits and drawbacks, but Typed emerges as a unique note-taking and knowledge management solution.
Typed can sit on top of Google Docs, combining an extremely familiar interface with cutting-edge knowledge management and collaboration features. The tool will change how your team works and shares knowledge — consider how you can create, organize, and manage your documents in one place, along with boosting your team's collaborative powers.
Sound like something you want for your team? Start Typing for free today!